While Mama was visiting me over here in South Asia, we decorated for Christmas. So...I thought I'd give you a peek at our cute little flat while participating in this bloggy Tour of Homes: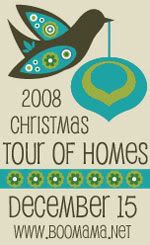 The view of the living room all decked out. Here, stars in windows or on porches show others that you celebrate Christmas. Don't you just love our bright South Asian home?
Here is our cute little tree. Again, this year we borrowed the tree from a family that is currently out of town. Most of the ornaments are a beautiful papier mache that is famous in a particular part of my country. Others are made from scrapbooking papers or sent from home.
This is our stairway...with hand-me-down stockings and a felt garland that I made. The tutorial is
HERE
at Anna Maria Horner's Web site. It's absolutely adorable!
I made this wreath from an embroidery hoop and scraps of fabric leftover from a cute Christmas tote I made for Mama. The ornament in the middle was sent over by Reba's mom.
This miniature nativity set was given to me by friends before I left to come to South Asia. It has been very helpful in explaining what Christmas is all about to neighbors and friends.
Here is our table. The tablecloth and napkins were bought at a fabulous department store here, and the napkin rings are made of pretty ribbon. The green center cloth is a silk scarf, and the little trees are from my favorite stationary store.
Finally here is our Jesse Tree. It's actually a bangle bracelet tree that we've converted to serve as the Jesse Tree. The Jesse Tree is a unique way to celebrate Advent through stories. Creation until the Messiah. We've been telling the stories every night in December to neighbors and friends. We made the ornaments, and each represents the story for the night. If you haven't heard of the Jesse Tree, please click on the following links for good explanations and sample story sets.
One
,
Two
and
Three
We didn't follow any of these story sets in the links above, but I will do a separate post with our story set and pictures from our nightly get-togethers with neighbors.
That does it for the tour! I hope you enjoyed our South Asian Christmas decor!